This is the first meeting of the 2018-2022 term. After the chaotic municipal election that halved the size of Council, we return to a very different City Hall. Over the next several days, we must drastically reshape how Council runs and what councillors do in order to accommodate double the workload.
Things officially kick off with a special invite-only session on Tuesday, December 4 (don't worry, it will be livestreamed as well). The Mayor and councillors will make their declarations of office, the Mayor will give a speech, and Council elects the Speaker and Deputy Speaker. For those just joining us, the Speaker chairs the meeting, and the Deputy Speaker fills in for her if she's away or if she's asking questions or making a speech in her capacity as a councillor. A good Speaker knows all the rules, enforces them fairly and effectively, and moves the meeting along efficiently.
Council returns at 9:30 a. m. on Wednesday, December 5, when they must get down to the business of figuring out how the hell they're going to get anything done. The City Manager and City Clerk have just produced their recommendations. Check out the full report as well. I'll do my best to break it down for you.
First off, they recommend creating a Special Committee on Governance to figure it out. In the meantime, though, things still need to get done. Here's what they suggest. There are several different aspects:
Committees
Each councillor sits on multiple committees, including standing committees on particular policy areas like Parks or Public Works, special committees like Budget Committee, and the Community Councils that handle local issues. Most meet monthly.
Proposed changes: Combine the eight standing committees into four:
Community and Economic Development (Community Development and Recreation, Economic Development)
General Government and Licensing (Licensing and Standards, Government Management)
Infrastructure and Environment (Parks and Environment, Public Works and Infrastructure)
Planning and Housing (Planning and Growth Management, Housing (planned)
The other committees, like Executive Committee and Budget Committee, would have fewer members. They would also have to get rid of the rules against certain cross-appointments (e. g. against Audit Committee members also being on the Budget Committee).
Boards
Councillors also sit on the boards of many City agencies, corporations, and other organizations (388 seats on 170 boards, to be exact). This includes the TTC, the library, the police, and more.
Proposed changes: Here's the full list of changes to board appointments.
There are a few kinds of changes:
For a board with multiple councillors on it, reduce the number of councillors appointed.
Instead of councillors, appoint members of the public or City staff.
Just stop putting councillors on the board, but maybe the local councillor can still sit in on meetings.
For certain local boards, councillors are still appointed, but they don't have to show up all the time.
Public appointments
Council votes to appoint hundreds of members of the public who sit on committees and boards as well. Councillors are involved in screening and interviewing candidates. "Last term 34 different Council Members took part in 21 different nominating panels to recommend more than 450 appointments to City Council. Council Members conducted more than 900 interviews with candidates."
Proposed changes:
People on the highest-profile boards would still be screened and interviewed by the Civic Appointments Committee.
People on the Mayor's Corporations Nominating Panel, which, well, nominates people for corporate boards, can already be either councillors or members of the public.
People on "quasi-judicial bodies and tribunals", like the Local Appeal Body and the Committee of Adjustment, would be screened and interviewed by a "Panel of Citizen Experts" recommended by the City Clerk and appointed by Council. This panel would be made up of people "with mediation or adjudication backgrounds" who would be paid for their work, which would cost the City an extra $45,000 in total.
The rest would be screened and interviewed by Public Appointments Secretariat staff.
The last two categories make up the bulk of interviews.
Here's the full list of which body would do the interviewing for each board or committee.
Office budgets and salaries
Councillors now serve twice the area. That means twice as many people calling, twice as many newsletters to send out, twice the travel costs, etc. Office budgets need to be adjusted to compensate, as well as the budget for paying staff.
Proposed changes: Staff lay out three possible options.
Take the total amount in office budgets and staff salaries they had budgeted for 44 councillors, and divide it between the 25.
The same as option 1, but also include the cost of the missing councillors' salaries and benefits.
Simply double each office and staff budget. (This is what many residents' associations have been pushing for.)
From the report:
| | | | | |
| --- | --- | --- | --- | --- |
| | Status Quo | Option 1 | Option 2 | Option 3 |
| Councillor Salary Envelope | $241,000 | $424,000 | $460,000 | $482,000 |
| Councillor Office Budget | $34,000 | $61,000 | $50,000 | $69,000 |
| Total 2019 Council budget (incl. general and travel budgets) | $13,199,000 | $19,661,000 | $20,620,000 | $21,740,000 |
| Budget change from 2018 ($) | -$7,421,000 | -$959,000 | -$0 | $1,120,000 |
| Budget change from 2018 (%) | -36.0% | -4.7% | 0% | 5.4% |
Community Council boundaries
Council approved which wards make up each Community Council way back when there were going to be 47. Not a huge thing, but until they approve new boundaries, they can't actually hold Community Council meetings or have local planning hearings.
Proposed changes: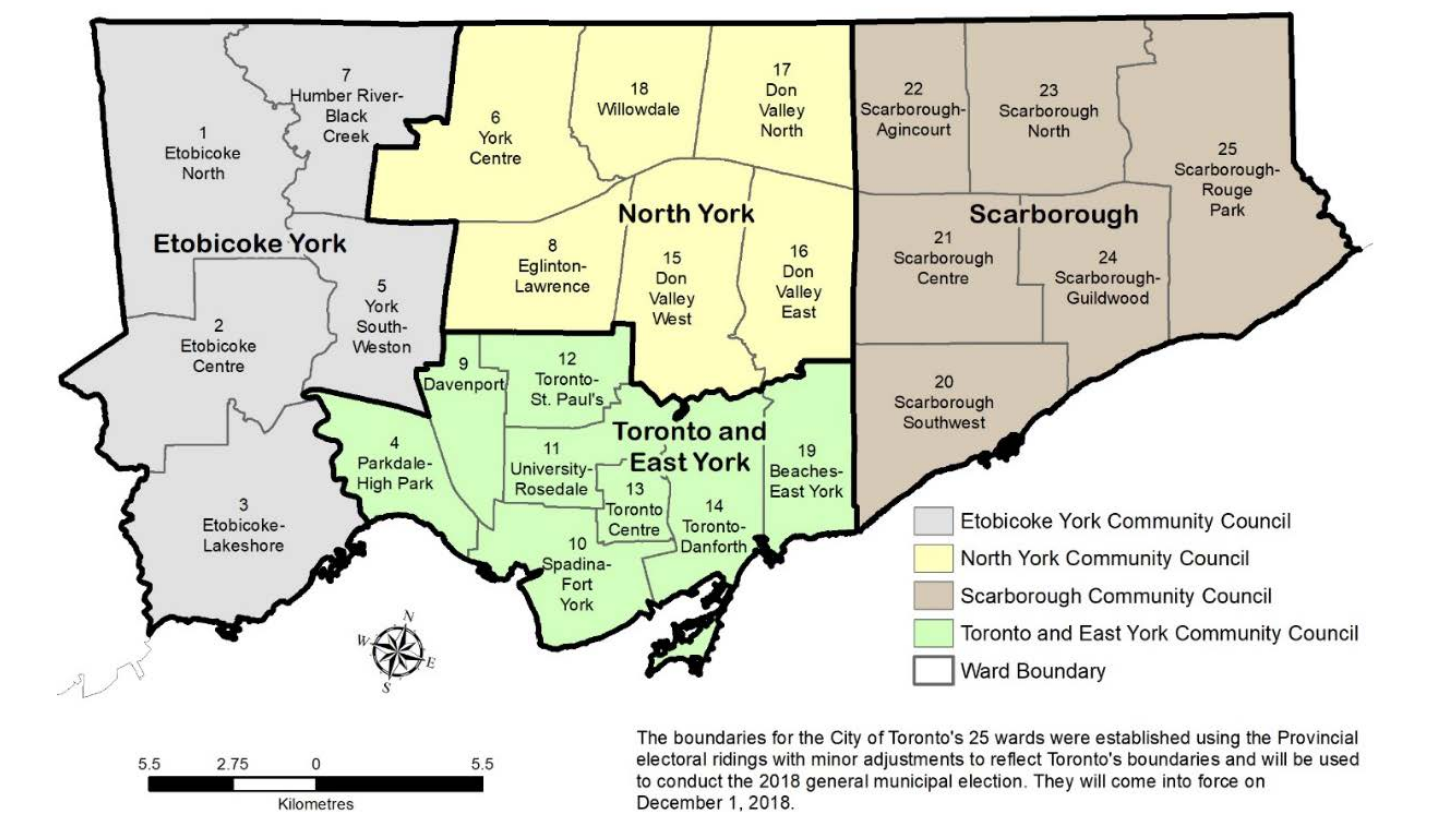 Constituency offices
Councillors get just under $20,000 a year for renting constituency offices (office space in their wards, not at City Hall). Previously, not all councillors felt they needed a constituency office, but now that the scope of their responsibilities has changed, it may become more important. Councillors who did have constituency offices may want to have more than one location for people's convenience. This is a problem because rent is expensive. So budgeting more for constituency offices may be on the table, too.
Members of the public
This was not in the report, but I do want to highlight this.
For members of the public, it will become more difficult to attend meetings in person. Committee meetings will be longer, and it will become even harder to predict when any particular item will be discussed. This means you may have to take more time off work or wait longer for items to come up. (I suspect they may limit the allotted time for members of the public to speak to the committee on particular items.)
Security measures approved late last term are now in force. To go to the elevators or the second floor, you now must have your bag checked by security guards. Additional barriers between councillors and the public will probably mean there is less seating in committee rooms. To be on the safe side, arrive as early as possible if many other people are expected to attend.
I am not sure yet if you can still bring food and drink up to committee rooms, or if water and glasses will still be available. I'll update this as necessary.
Blah
The general feeling I get is that city government has become less accessible and less democratic. It will be harder to reach your councillor directly. More power will be placed in the hands of people who are appointed rather than elected, and they themselves will be screened by people who are not elected either.
A personal note: I am not looking forward to covering Council any more. The upcoming term will likely bring aggressive enforcement of the status quo and revisiting the same debates, and I'm sick of reruns. Recent events have changed my outlook on journalism and politics. Though I can't imagine my life without local politics, I am seriously considering taking a very long break from political blogging and municipal politics entirely.
I will at least go to the first meeting. You can follow my updates from Twitter and/or watch the official livestream on YouTube.
As always, thank you for reading, and corrections and additions are welcome.