At the end of 2018, I was burnt out on politics, and I decided to instead write about something I genuinely loved and could change people's minds about: spiders. I started writing up the various bits of arachnid-related things I come across, calling it "Arachnews".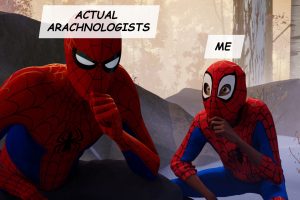 In April, Sebastian Alejandro Echeverri asked Spider Twitter who might be interested in a group blog, to provide better coverage of arachnids than the usual "creepy-crawly" stuff you see in the news. I jumped aboard, and we switched from my "random bookmarks of things people send me" system to a spreadsheet of Google Scholar alerts. I had no idea how much stuff was out there, guise. It's a whole new world. Yes, like the song, but, like, with more spiders.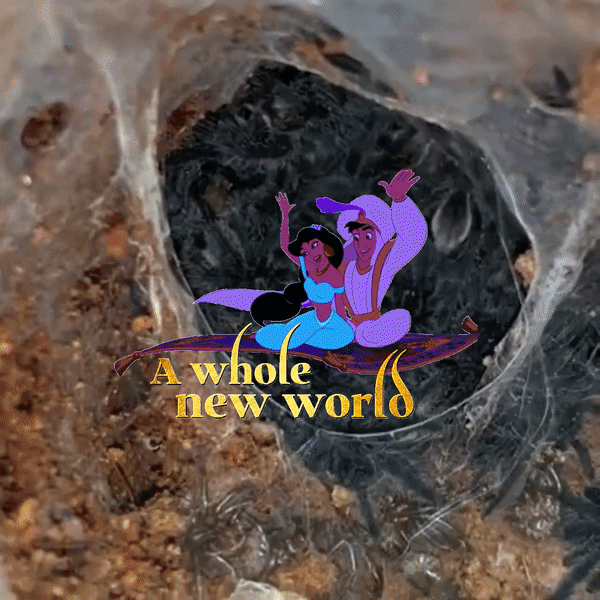 Here are my 2019 highlights—not just personal favourites, but stuff you'll see popping up again in years to come.
Coolest photos so far
There were so many it's hard to choose, but for me, these three are definitely memorable.
Arts & culture
Research
News and Events
RIP
Spiders eating things
Taxonomy
Changes
Species are constantly being reclassified as we update our knowledge, so it is very important to keep up-to-date. A few big/relevant ones:
せっかく描いたので、学名(+英語名)も一斉に並んでみます。
一部のクモやサソリでないクモガタ類の英語名に spider や scorpion がついたせいで、英語界隈におけると誤解を招きやすいものになる。また、「ダニ」に対応する英語名は存在せず、tick(マダニ)とmite(他のダニ)として区別される。 pic.twitter.com/9oAurUmH6L

— Jun (@ni075) March 3, 2019
All right here we go let's THREAD. "A Critical Appraisal of the Placement of Xiphosura (Chelicerata) with Account of Known Sources of Phylogenetic Error". Feel free to read along.

Official link: https://t.co/AgmMykNJ7T
Sci-Hub: https://t.co/0u4kfyTao7

— neville park (@neville_park) February 18, 2019
HORSESHOE CRABS. A provocative new phylogenetic analysis from Sharma's lab [S-H] found that horseshoe crabs, rather than being a sister group to arachnids, were arachnids. This has pretty big implications for evolutionary history. Then, a few months later, researchers from England were like, "Nu-uh." I can't wait to see how this eventually works out.

Late last year, a bunch of scientists said golden silk orbweavers should be in their own family, Nephilidae. Then some other bunches of scientists said they were totally wrong and the nephilids should just be a sub-family of Araneidae. This will probably go back and forth for years to come. At any rate, everyone agrees that a number of species formerly in Nephila should be in their own genus, Trichonephila. That includes the Jorō spider T. clavata and the "banana spider" T. clavipes.

Several species formerly in Brachypelma were moved to a new genus, Tliltocatl. This includes some species common in the pet trade, like the Honduran curly-hair Tliltocatl albopilosum, and the Mexican red rump Tliltocatl vagans. Non-Nahuatl-speaking spider lovers are grappling with how to say "Tliltocatl". Here's @Arachno-Cosas' pronunciation.
New species
New families
New taxa are often introduced when people are re-examining already described species and realize some ought to be in their own category. It's very unusual for people to stumble across some strange creature they've never seen before that turns out to be only distantly related to any others. But that happened twice this year!
---
I am looking forward to what 2020 brings. I'm hoping to write about new research in more detail beyond quick blurbs, though Lord knows I love a quick blurb. I want to do more journal-type stuff about the spiders and other bugs I see throughout the year. May even try to pitch some science/nature pieces to places, who knows?