Update, July 30, 2023: Repo is now on Codeberg and mirrored to GitHub; new MP3 links added.
---
Recently CBC revamped its music streams again and the old MP3 stream URLs don't work. Why would they do this? Well, they want people to listen using the website or official app, or via platforms they have agreements with, like Google Home and Alexa.
Personally, I think this is bullshit. I like listening to music while on the computer, but I'm not opening a whole-ass modern web browser, on top of whatever else I have open, for a simple audio stream. And if I'm using headphones with my phone or an actual physical radio, how am I supposed to hear sounds on my computer? So, after some helpful tips from more techy folks on Mastodon and Github, I threw together a few playlists of the live radio streams.
This playlist (modern) uses the .m3u8 URLs from the CBC Listen website. The CBC now uses the HLS (HTTP Live Streaming) protocol rather than MP3 streaming. The stream is broken up into into multiple tiny files, which are then fed into the .m3u8 playlist file that delivers them to your computer in the right order. This works with modern media players like VLC, Transistor, MPD, etc.
This playlist (legacy) will work for older programs like Winamp that don't support HLS. It uses good old-fashioned MP3 streams, found on PublicRadioFan.com. I don't know how long these URLs will be around, but they work.
How to use it: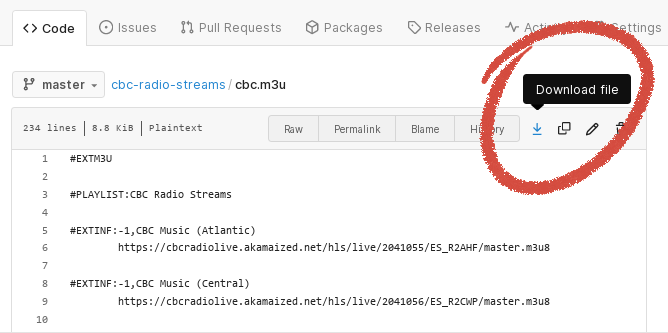 Download the playlist file by clicking the "Download file" link in the upper right corner (shown above) and saving it to your computer.
Optionally, first open the file in a text editor (like Notepad, TextEdit, or nano) and delete the stations you don't want.
Open the file with your preferred web radio application of choice.
Pick your preferred radio station. "CBC Music" is what used to be Radio 2.
Personally, I like VLC's ncurses interface, so I added this to my .bash_aliases file: alias cbcradio='vlc -I ncurses ~/Music/cbc.m3u'. Typing cbcradio into my terminal app results in this: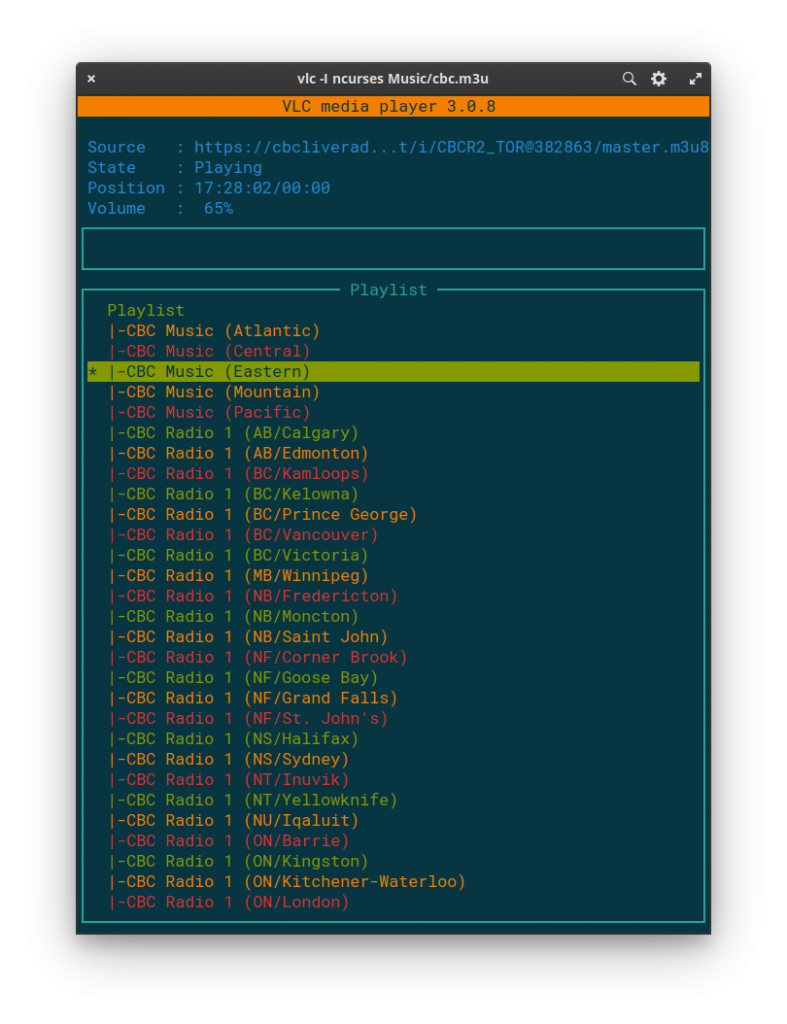 To do:
I don't know how to get the proper streaming URL for individual shows/podcasts and playlists. If anyone does, please let me know!
One could do the same thing for ICI/Radio-Canada streams, a network I'm not familiar with because I'm a filthy Anglophone, but I can work on it if people want. Done! Now includes Ici Musique and Ici Première streams.